DDGS (Dried Distillers Grains with Solubles) are an alternative feed for the formulation of pig diets as well as being a sustainable way in which to use the residues derived from cereal-based ethanol production.
The energy present in DDGS as well as fiber, protein and digestible phosphorus makes this raw material attractive for pig production, partially replacing corn and soybean meal.
DDGS have a brown coloration and can hold some golden tones,which are characteristic in fermented foods. Carbon dioxide and alcohol are also by products of the fermentation process(Corassa et al., 2018).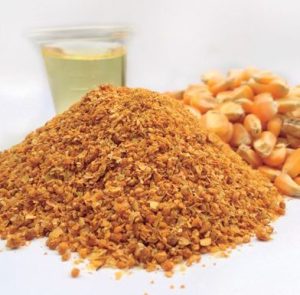 Its availability
Its high energy value
Its available amino acid and phosphorus values
According to Wang et al.  (2008) maize was the first cereal to be used for ethanol production in the United States, although triticale and sorghum were also used for the same purpose in pig feed.
When analyzing the chemical composition of the DDGS obtained from the three grains mentioned above, results show promising potential. Making them interesting alternatives to be considered in the formulation of pig diets(Table 1).