05 Aug 2022
High Fiber and AGP dietary treatments:Metabolic responses in finishing pigs
High Fiber and AGP treatments are commonly included in diets for commercial pig production.
Introduction
Antimicrobial growth promoters (AGPs) have been used extensively in swine production as a means to improve growth performance by reducing gastrointestinal disease. Resulting in spared nutrients that would otherwise be used for inflammatory responses. As well as improving metabolic efficiency (Jacela, J.Y., Derouchey, J.M., et al 2009). In-feed AGPs can decrease microbial populations and alter microbial compositions in the gut and feces due to their antimicrobial properties. Such changes produce metabolic impacts due to alterations in the microbial metabolism of nutrients within the large intestine.
However, recent concerns regarding antibiotic resistance and the significant health risks associated with this,  have led to strict worldwide regulations on AGP use for animal production.  Therefore, the search for natural growth promoters that can act as alternatives and improve feed efficiency has become a priority. Despite all of the research done on this topic, there are still significant knowledge gaps when it comes to understanding how AGPs affect feed metabolism in the hindgut. This continues to be hurdle when it comes to developing true alternative that can mitigate disease and enhance productive parameters through optimal gut health.

High-fiber (HF) coproducts, such as wheat middling (WM), are commonly used as low-cost feed ingredients for grow–finish pigs (Jaworski, N.W., Lærke, H.N. et al 2015). Although grow–finish pigs have the capacity to tolerate greater fiber volumes compared to nursery pigs, this practice can still reduce nutrient utilization and compromise their growth performance (Salyer, J.A., et al 2012).
The influence of fiber on pig metabolism and growth varies according to the site where it acts. For example, within the small intestine, fiber affects nutrient digestion and absorption by interfering with digestive enzymes' function. It also interacts with nutrient receptors and transporters (Capuano, E. et al 2017). In the large intestine, fiber has extensive bidirectional interactions with resident microbes. Fermentable fiber serves as the raw material for gut microbes to produce short-chain fatty acids (SCFAs), which are an energy source for colonocytes and possess a significant role in the hosts' energy metabolism (Jha, R.; Berrocoso, et al.,2016)  . Fiber can also alter microbiome composition which indirectly affects the production of microbial metabolites in the hindgut and feces. This includes SCFAs, secondary bile acids, biogenic amines, and other metabolites capable of regulating metabolism, immunity, and endocrine signaling.
Fiber and AGPs commonly coexist in commercial swine diets. Since fiber and AGPs share gut microbiota and microbial metabolism as their targets of action in the hindgut (Choo, J.M.; Kanno., et al 2017) an interaction between fiber and AGPs in hindgut metabolism may occur. However, very few studies have evaluated this topic up to date.
The present study aimed to assess the metabolic interactions between bacitracin and WM in the feces of grow–finish pigs through comprehensive metabolomic analysis to reveal the metabolic signature related to growth in response to dietary intervention.
This study was carried out by a research group fromt Department of Animal Science, University of Minnesota and the collaboration of a commercial partner (Cargill Nutrition).
In the current study, 128 pigs (BW = 24.65 ± 4.10 kg, 64 d age) were housed individually. These were assigned to blocks based on weight, sex, house, and nursery ZnO treatment and allocated 4 dietary treatments in a 2 × 2 factorial arrangement with two dietary fiber levels (low fiber, LF or high fiber, HF) and two levels of bacitracin (0 or 25 ppm). This resulted in 4 dietary treatments: antibiotic-free and low fiber (AF + LF), antibiotic and low fiber (AB + LF), antibiotic-free and high fiber (AF + HF), and antibiotic and high fiber (AB + HF).
Pigs were weighed individually on days 0, 21, 42, 70, and 98 in grow–finish phases to calculate average daily gain (ADG).
Determinations were made for chemical identities of metabolite markers by accurate mass measurement, using elemental composition analysis.
Growth performance parameters and metabolic responses were assessed with the aim of establishing potential correlations. Looking to determine if fecal metabolite markers detected in the early feeding phase could serve as potential prediction markers for performance when finalizing the feeding period.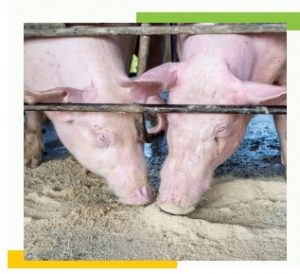 The growth performance of the pigs was compromised by HF feedings but not by AB. A metabolomic analysis of fecal samples collected on day 28 of feeding showed that WM elicited comprehensive metabolic changes, especially in amino acids, fatty acids, and their microbial metabolites, while bacitracin caused selective metabolic changes, including in secondary bile acids.
Limited metabolic interactions occurred between fiber and AB treatments. Moreover, the correlations between individual fecal metabolites and growth support the usage of fecal metabolome as a source of biomarkers for monitoring and predicting the metabolic performance of grow–finish pigs.
Conclusions
In the current study, feeding HF diets with up to 55% of WM decreased the growth performance of grow–finish pigs, while bacitracin had insignificant effects. The WM-based HF feeding elicited more significant changes in the fecal metabolome, especially AAs, FAs, and their microbial metabolites.
Bacitracin on the other hand elicited more selective metabolic changes, such as secondary bile acids, and had limited shared targets with HF in fecal metabolome.
The joint administration of antibiotics and fiber did not result in significant metabolic interactions.
Researchers suggest that the identification of correlations between individual fecal metabolites and the growth performance of finishing pigs supports the use of fecal metabolome as a biomarker source to help monitor and investigate performance of pigs subjected to dietary changes and health challenges. Nonetheless, more research is still needed to have  a deeper understanding of such correlations.