Immunomodulatory and immunostimulating effects of beta-glucan
Nutritional immunology is a new science. It will be more effective when the relationship between nutrition and the immune system is better understood. That's what we're going to focus on in this review.
Infectious diseases, possibly contagious in swine, avian, bovine, and other species, cause damage, corroborated by the reduction in the use of antibiotics, increasingly legislated. It increases the importance of the immune system.
Currently, there is an intense scientific movement devoted to immune tissue, its development, and functioning, seeking more effective technologies, with resistance to antigens, and ultimately, more production.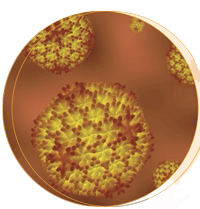 In recent decades, Immunosuppressive viruses such as Gumboro disease in birds and circovirus in swine have greatly catapulted the development of veterinary immunology. This coincided with the advent of molecular biology and technological support, high-tech vaccines, and new diagnostic methods.
The identification of dendritic cells, for example, occurred at this time, as well as some specifications of the B cell and some immunoglobulins.