10 Feb 2022
Insect production farms a growing industry with Dutch and Danish participation
Insect production as a source of nutrients represents a sustainable, attractive and suitable alternative to meet the world's growing demand for food, especially in animal nutrition.  It is a nutritional strategy that when compared to other commonly used products like animal meal and soybean meal can provide significant amounts of protein, lipids, and minerals. Which makes it very appealing to the food industry. These insects can be fed with agricultural residues and organic waste, which is a great advantage and a strong reason to support the use of this ingredient in animal feed.  In addition, the use of insects for such purpose, help reduce production costs, contribute to developing a beneficial microbiome in the animals being fed, reduce competition for food resources and act as immunomodulators.  Recent studies highlight the use of various insect meals for the inclusion or total replacement of conventional protein sources in animal feed. It is an ingredient that offers significant results of zootechnical interest, generating a positive impact on the productive system which deserves to be highlighted.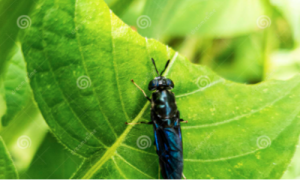 Following this trend, Dutch insect producer Protix has raised EUR50 million (US$57.2 million) in equity for international expansion and research and development. Investors include European Circular Bioeconomy Fund (ECBF), BNP Paribas, the Prince Albert II Foundation and The Good Investors, with support from existing shareholders Aqua-Spark, Rabo Investments and Invest-NL. Protix produces ingredients from insects and farms black soldier fly  larvae(BSF).  These insects are used in various animal feeds including pets, fish, chicken, amongst others. Protix was founded in 2009 and co-founded the International Platform of Insects for Food and Feed (IPIFF) to enable EU legislation.
According to other reports Protix may also be considering an initial public offering on the stock exchange. The company has stated that its next growth phase will focus on global site expansion, building new facilities and increasing production capacity.
With the intention of following suit, Danish companies Enorm Biofactory A/S and SKOV A/S have started a partnership with the aim of developing climate control and production systems to be implemented in insect farms. ENORM brings its expertise as specialists in production of insect protein for animal and fish feed. Whilst SKOV puts their 40 plus years' experience in climate control systems on the table.
Planning for Scandinavia's largest insect farm
SKOV has already installed their climate solution system in ENORM's pilot plant located west of Horsens in Denmark. This Project aims to become Scandinavia's largest insect famr, and is expected to be completed by the middle of this year. Withe  a production area that will measure around 23.000 m2. Carsten L. Pedersen, CEO of ENORM states the following "At the current pilot plant we have a capacity of 520 metric tonnes of live larvae per year, and we expect to produce approximately 36,000 metric tonnes of larvae biomass anually when the new installation is set up. In total we are talking about an investment of aroun DKK 330 million (US$53.7 million), whereby we are working on putting the final parto f the finnancing in place." A production of 36,000 metric tonnes of larvae biomass can translate to a an anual production 360,000 fattening pigs with an approximate carcass weight of 100 kg per pig. 
Insects an alternative solution for a sustainable future
Some specialists project that for 2025 the production of insects is expected to grow by 30 to 40% annually . Since insects can be processed into fat and protein, they are expected to become an essential nutrient source for the animal feed industry. Most insect farms are currently focusing on the production of Black soldier fly larvae. Exploiting the ability of this species to transform agricultural and food waste into animal feed ingredients, improving the sustainability of current and future fish and meat production.
These current events, once again place the topic of insect use in animal nutrition under the radar. Presenting it as an economically viable and sustainable alternative for producers in terms of cost reduction and obtaining efficient production yields. Which brings a new perspective within the food industry.