30 Aug 2022
NutriNews International: A new journey begins!
NutriNews is the first communication tool in the agricultural sector dedicated exclusively to animal nutrition.
NutriNews was born with the aim of constituting a space of reference and dissemination for companies, institutions, researchers and specialists within this field at a global scale. At the end of 2013, when we launched our digital media platform nutriNews -newsletter, monographic and web- we obtained an excellent response. Receiving, from day one, a very high share of visits and downloads of our articles in Spain and various Spanish-speaking countries. This success encouraged us to complete our communications offer. Since then, we have launched Nutrinews Latam, Nutrinews Brasil with very encouraging responses.

Today NutriNews International begins its journey within the publishing world. Embracing the participation of companies and consultants who have seen in our proposal a specialized, innovative and rigorous channel through which valuable information can be delivered.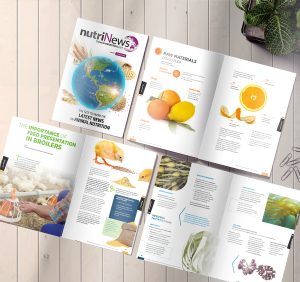 We want to use this first editorial to thank all of those who have lent us a hand, collaborating in favor of scientific dissemination.
NutriNews' main objective is to communicate the broad and excellent research being carried out in the field of animal nutrition. Serving as a beacon for cutting edge information and new developments within this sector.
We hope that our initiative finds an enthusiastic welcoming, and is able to transmit all the dedication and hard work we have put into it. We aim for it to become a reference of choice for all actors involved in the animal nutrition sector at a global scale. Contributing to constant improvement and making it a worthwhile experience. We hope you enjoy this first installment as much as we have enjoyed creating it!