01 Aug 2022
Protein sources: Choosing the right alternative for weaned piglet diets
Protein sources and their correct selection ir crucial within piglet transitional diets, in order support gut health and reduce the use of food additives.
Introduction
In pig production, feed costs account for more than 70% of total costs.During the first months of 2022, these costs have risen considerably due to low crop yields in South America, uncertainty regarding grain exports in the Black Sea region and increased energy costs. In its latest quarterly report, Rabobank estimates that feed costs have increased by 20% compared to last year, but will continue to rise further (Figure 1). As a result, producers are tempted to remove what they consider expendable from feed formulations. Another complicating factor for the formulation of transitional diets is the EU-wide ban on pharmacological levels of zinc oxide (ZnO) that has come into force since June. This article aims to review the importance of good quality protein for the formulation of a simple (balanced) transition diet while reducing dependence on food additives that improve gut health. Aiming to maintain feed efficiency even without elevated ZnO levels.
Figure 1. Quarterly forecast of grain prices for feed, forecast Q1 2015 – Q1 2023.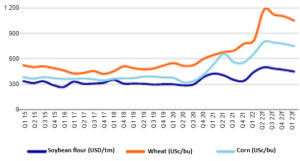 Transitional diet base: highly digestible protein
Transitional diets make up just a small part of pig feed as a whole. However, these are often unnecessarily complex and expensive. It has been shown that feeding simple diets during transition does not necessarily lead to negative impacts on final slaughter weight or meat quality. The key to success is the use of high quality protein sources that also possess elevated digestibility levels.
Weaned piglets have limited enzymatic activity which presents a restriction regarding the type of protein they can digest. However, amino acid per unit of energy requirements are high, considering that tissue deposition is a priority during this stage. Therefore,  transitional diets must be protein dense. When protein and amino acid needs are met with the use of ingredients that contain high anti-nutritional factors, costs ten d to be low. However, the digestibility of this type of ingredients is very limited, which increases the risk of dysbiosis and the onset of post-weaning diarrhea.

Antinutritional factors
Antinutritional factors encompass a variety of substances (such as stachyose, raffinose, trypsin inhibitors, and β-conglicinin) that reduce the nutrient digestion and trigger an inflammatory responses.  Causing chronic bowel inflammation, poor digestion, and poor performance. Soybeans are an example of a feed ingredient with considerable amounts of anti-nutritional factors. When piglets are fed diets with high anti-nutritional factor levels from soybeans, their growth performance and intestinal health become significantly impaired.
Therefore, the inclusion of untreated or only heat-treated soybean meal not only leads to yield reductions, but also increases the need of alternatives that can improve intestinal health. Making the use of feed additives or antibiotic treatments almost unavoidable. As a result, what may have looked as an economic benefit for pig producers ends up being a mores expensive solution.
Use of animal protein in transitional diets
Many nutritionists choose to avoid anti-nutritional factors in transitional diets by including high levels of animal protein, such as whey protein, fishmeal, and spray-dried porcine plasma. Whey protein and fishmeal are probably the most commonly used sources of animal protein in transitional diets as they are rich in amino acids and highly digestible.
Spray-dried porcine plasma is highly palatable and has been shown to stimulate feed intake and provide immunoglobulins. The benefits of including porcine plasma in transitional diets are well described by several authors. However, it is becoming increasingly difficult to incorporate animal proteins into transitional diets due to their limited availability and high prices. Therefore, there is  a growing tendency within swine nutrition to include processed plant-based protein sources. These plant based alternatives have the advantage of being highly digestible as well as containing low amounts of anti-nutritional factors, without being very expensive.
Reducing feed costs though the use of plant protein sources
Soybeans have a unique amino acid profile, but can only be used on young piglets after being properly processed, in order to reduce the content of anti-nutritional factors. There are different techniques used to reduce anti-nutritional factors in soybean meal. These in turn result in variable amounts of anti-nutritional factors within the processed raw material.
The development of the so-called special soybean proteins has made it possible to partially or totally replace animal protein in transitional diets without compromising animal performance or health. An example this type of protein is enzymatically treated soybean meal. Studies have shown that treated soybean meal can replace fishmeal or spray-dried porcine plasma in transitional diets without compromising yield.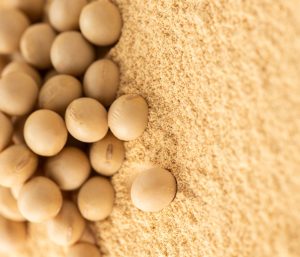 Considering the current scenario of extremely high feed costs, it is advisable to be careful with the complexity of transitional diets. Therefore, it is suggested that these are brought back to their essence, starting with protein ingredients that have high digestibility levels and quality.
Choosing highly digestible protein sources is very important when it comes to reducing the complexity of a transitional diet, reducing reliance on food additives to improve gut health, without compromising health and performance at the same time.
A special focus must be set on the content of anti-nutritional factors, in order to minimize harmful health effects and stimulate growth performance in weaned piglets.