04 Feb 2022
Yeast, a solution for improving plant-based diets' efficiency in rainbow trout
The use of single cell protein sources like yeast emerge as an alternate solution in aquafeed. The fast evolution of aquaculture has generated a shortage of classic ingredients such as fishmeal and fish oil, used in the industry. Creating a scenario where evergrowing aquafeed needs remain unsatisfied. As a result, greater attention has been set on plant derived raw materials and their incorporation into aquafeed formulas has become very common.  Nontheless, due to the negative impacts (metabolic disturbances, impacts on flesh quality, delay in growth, altered health status) caused by the complete elimination of fishmeal and fish oil these have not been completely removed from feed. Currently, the fish feed industry is dependent on high-quality protein sources of marine and plant origin.
Yeast derived from the processing of low-value and non-food lignocellulosic biomass is a potential sustainable source of protein in fish diets. Following enzymatic hydrolysis, the hexose and pentose sugars of lignocellulosic substrates and supplementary nutrients can be converted into protein-rich yeast biomass by fermentation. Studies have shown that yeasts such as Saccharomyces cerevisiae, Candida utilis and Kluyveromyces marxianus have favourable amino acid composition and excellent properties as protein sources in diets for fish, including carnivorous species such as Atlantic salmon and rainbow trout. Suitable downstream processing of the biomass to disrupt cell walls is required to secure high nutrient digestibility. A number of studies have shown various immunological and health benefits from feeding fish low levels of yeast and yeast-derived cell wall fractions.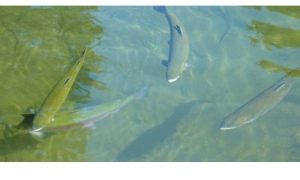 One of these studies assesed such benefits in a 12 week trial in which rainbow trout (Oncorhynchus mykiss) juveniles were fed with a plant-based diet (totally devoid of fishmeal and fish oil), containing 0, 5, 10 or 15% of a protein-rich yeast fraction and microalgae as DHA source.
Investigators observed that including a 15% protein-rich yeast fraction may upgrade growth performance of trout fed plant-based diets by improving feed conversion ratio and body nitrogen retention. Astonishingly, the incorporation of 5% yeast in the diet led to enhanced accumulation of DHA in the whole body which could be linked to a higher expression of the fatty acid elongase 2. Immune status and gut health of fish were also assessed through histological analyses and transcript expression level measurements of immune-related genes in distal intestine. Complemented with the measurement of some plasma immune-related parameters. A lower score of lymphocyte infiltrates in lamina propia of the fish's distal intestine was observed, with a 10% inclusion level of the yeast fraction and the overall calculated inflammation score was greatly reduced with a 15% inclusion level. Fish which were fed with diets containing 5% and 15% yeast fraction, presented a higher internal perimeter:external perimeter compared to fish from the control plant-based diet group. Inclusion of 15% yeast fraction in the plant-based diet also led to an increased expression of mucin 5 and claudin compared to a 5% inclusion level. A negative statistical linear correlation was established between plasma neutrophils proportions and dietary yeast content. Plasma lysozyme concentrations were lower in trouts fed with diets containing 10% and 15% yeast fractions.  In summary, the results obtained in this study, prove that the inclusion of yeast in plant-based diets improves rainbow trout's gut health and global immune status.
The use of yeast as a sustainable protein ingredient in fish feed appears to be favorable and technically feasible. Yeast is efficient in converting non-food lignocellulosic biomass to valuable products. Yeasts contain lower crude protein and lipids compared to conventional fishmeal. The amino acid compositions of yeasts under study are comparable with the fishmeal and soy protein currently used in aquafeeds, except for methionine, arginine, lysine and phenylalanine, which are the most frequently limiting essential amino acids for juvenile Atlantic salmon and rainbow trout. Genetic modification or improved nutrient digestibility through exogenous enzymes supplementation and the use of cost-effective downstream processing could be a feasible approach to improve the overall protein quality in yeast.  However for yeast to become competitive with fishmeal and soy protein in aquafeeds, there is a need for additional investment in large-scale production and at affordable costs for feed manufacturers and fish farmers, which is still a pending matter.