23 Mar 2022
Yeast market shares continue to steadily grow linked to the animal feed sector
Yeast is a rich and natural supplement that provides proteins, vitamins, minerals, nucleotides, and amino acids. It is used in animal feed and nutrition products. The product is used in animal feed to boost milk production, reduce mastitis, support gastrointestinal development in calves, enhance the immune system of adult ruminants, and improve animal performance. Yeast additives have the ability to prevent pathogen attachment, resulting in improvement in the immune response of pigs and strengthening mucosal integrity in their intestine.
The prevalence of numerous livestock diseases and increasing emphasis on animal health is expected to boost yeast market share for animal feed applications. The demand for high-quality meat and other animal derived products has propelled significantly across the globe in recent years. In a bid to follow a high-protein diet, consumers are steadily shifting towards animal-based products.
Increasing demand for animal derived products and rapid technological innovations in the meat processing sector may accelerate product traction. Research conducted by Global Market Insights, Inc., further estimates that the yeast market size for animal feed application exceeded USD 1.5 billion in 2020 and is estimated to grow over 7% from 2021 to 2027. The product is likely to record a notorious demand from the swine farming sector. Studies suggest that the market is expected to record over US$540 million from the swine segment over 2027.
Figure 1. Yeast market size for animal feed use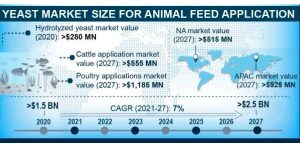 Source: Global market insights
Growing demand for animal feed additives due to rising livestock production across the globe is anticipated to drive the yeast industry for animal feed applications. Increasing incorporation of yeasts in animal feed due to their persuading attributes  and benefits for different animals will foster the market statistics.
Yeast-incorporated in animal feed for ruminants stimulates rumen metabolism, improves digestibility & feed absorption, mitigates risks due to acidosis, increases milk yield, persistent lactation and stimulates a better growth. In pig feed, it helps to enhance digestive comfort, increases feed efficiency, reduces pathogens, and as result optimizes performance and yield. These factors will propel the yeast demand for animal feed applications, thus propelling an expansion of the yeast market for animal feed.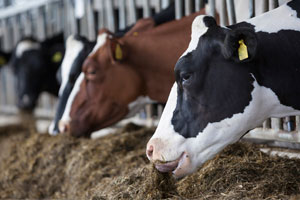 The yeast beta glucan market for animal feed application was valued at over US$130 million in 2019. Generally, beta-glucans are naturally occurring polysaccharides that are known for their essential health benefits. Although estimates suggest that the European yeast market for animal feed application could likely grow over 6% by late 2027. The EU has reportedly banned the use of antibiotics as growth promoters in animal feed, which has later encouraged the adoption of yeast in the region. Which means that such growth could have an even greater boost than what has been expected. Such results remain to be seen, yet the future of yeast application within the animal feed sector appears to be very promising.