03 Oct 2022
We already have the winners for the Innovation AWARDS
We already have the winners for the Innovation AWARDS!
EUROTIER 2022 has just announced the award winners for all its categories within feed sector:

The winners of the Innovation Awards EUROTIER 2022 in silver are: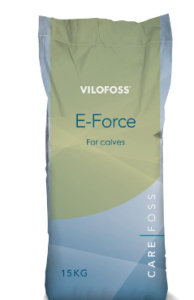 E-Force
The supplementary feedstuff Care Foss E-Force optimizes vitamin E supply, improving the animal's vitamin E status. RRR-tocopherol sheathed with lecithin to offer good oxidation protection is used as a source of vitamin E rather than the usual tocopherol acetate, as it is more readily absorbed.
Published scientific studies show that CareFoss E-Force can significantly increase calves' vitamin E plasma levels during and after weaning. Lower plasma amyloid and cortisol values also indicate reduced stress and inflammation levels. The animals' immune response, health status and their resulting growth performance improved as a whole.
CareFoss E-Force represents a simple, and practical concept to maximize the benefits of supplementing natural vitamin E in calf starter concentrates. Lecithin protection maintains the stability of vitamin E for longer periods of time, which results in a prolonged shelf life for the product. What is particularly innovative about this approach, is its synergic combination of nutrients. Resulting in enhanced feed effectiveness when it comes to animal feeding and keeping them healthy.
Ruminants have the capacity to break down fibre-rich coarse feeds such as grasses, silage and hay, which are difficult to digest,and transform them into food of animal origin within their forestomachs. Feed is broken down in the rumen by microorganisms, including those that produce the greenhouse gas methane.
Bovaer is a preparation containing of 3-nitrooxypropanol (3NOP), which since April 2022 has been approved as a feed additive for dairy cows and cows destined for reproduction in the EU . It is to be classified under the category of 'zootechnical additives' and the functional group of 'substances which favourably affect the environment'.
The effect of the newly developed  3NOP molecule in regards to reducing methane formation in the rumen was confirmed during its approval process. 3NOP specifically inactivates the methyl-coenzyme M reductase, which catalyses the final step of methanogenesis. Within the rumen, the molecule itself is metabolised to form 1,3-propanediol, nitrate and nitrite. It has no negative effects on animal health, consumer safety nor the environment.
The use of Bovaer represents a promising tool to extensively reduce methane emissions in dairy cows. Therefore, making a significant contribution to the reduction of greenhouse gas emissions associated with agriculture.
NutriNews International will be present at Eurotier 2002 bringing you all the coverage of this fantastic event. Stay tuned for more information coming your way and join us for our international launch!