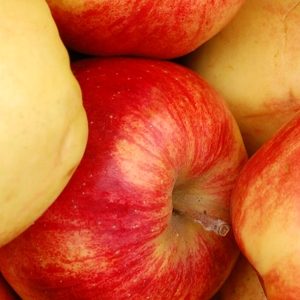 16 Jul 2020
Raw-material file: Apple pomace
This raw-material file features apple pomace, a by-product of the industrial production of cider and apple juice, which is a good source of energy for ruminants. A description of average composition is given, as well as some guidelines for its utilisation.
What is apple pomace
Apple (Mallus domestica)  is a tree of the rosaceae family. Its domestication goes 15000 years back, in the mountains between the current countries of Kazakhstan and China. It was introduced in Europe by the Romans. Nowadays, apple is the second most cultivated fruit in the world after bananas.
According to the FAO, the world's production of apples was just about 86 million tons (FAO, 2020). Out of the total world's production, 30 to 40% are damaged and not marketed, and 20 to 40 percent are used to produce apple juice (FAO, 2013). In 2016, only 0.66 million tons were use in animal feeding (FAO, 2018).
Apple pomace is utilized in animal feeding. It is a by-product of the fabrication of cider and apple juice.
This by-product comprises the exocarp, mesocarp of expressed fruit, seeds, and stems.
During harvest season, damaged, broken fruits are also used as by-products.
It is estimated that 20% of the fruit constitutes the residue.
As in mostly any other by-products of the industrialisation of fruit, it has a high humidity content, approximately 80%.
It can be used directly or stored as silage.
Due to their content in non-fibre carbohydrates of high fermentability, the pH in silage drops to values close to 3 – 3.5, rendering a product of good stability.
Production process
Apple pomace is a by-product of the fabrication of cider and apple juice. Its composition is extremely variable because it depends on the proportion of skin, pulp, seeds, stems and juice in the by-product.
In general, it is a raw material with:
Low protein and fat content
High in NDF (55 – 60%)
Only 10% de acid detergent lignin
Very rich in pectin
Despite its high palatability, apple pomace can sometimes undergo alcoholic fermentations, which can produce rejection or somnolence in animals.
It is convenient to control the level of patulin (neurotoxic mycotoxin), especially when using damaged apples.
Nutritional value
Table 1. Composition of apple pomace
Use in animal feeding
A problem for the utilisation of industrial by-products is their seasonality. Due to its high water content, it quickly loses its nutritional quality, becoming difficult to store it for long period of time. Dehydrating it before storage is too costly; however silage is an advisable preservation method (Kayouli y Lee, 1998).
Table 3.  Recommended inclusion levels (Kg/animal/day)
Conclusions
Apple pomace is a good source of energy due to its high content in sugar and pectin (Anrique, 1992; Alibes et al., 1984). Some lactogenic effect has been attributed to it, mainly due to its major content of soluble carbohydrates, which increases the synthesis of lactose (Rook and Thomas, 1983). However, administering it in high quantities cmay be limited in order to ensure adequate ruminal function. Since it has low level of effective fibre, it is fundamental to ensure the provision of enough long fibre to stimulate rumination and production of saliva.
It is particularly good to improve mixes that animals have problems to ingest, due to its excellent palatability. It is also good for including new raw materials in the diet.